The 13th of September 2020 marked the fifth Annual Commemoration of Rick Paton. A capacity crowd of anglers, family and staff were in good spirits, even those clearly carrying Hangover Pain! Gavin, Andy and Simon were fishing the match with their children George, Harry and Alesha.
Bacon and Sausage butties greeted the attendees and further heightened the anticipation for the 9.00am peg draw!
Alesha Blaydes, our youngest ever Match attendee at 7 years old was kindly invited to pull the first peg out of Gary's ever fragrant ground bait bucket; quickly followed by a much less angelic, jostling, rampant, shoulder barging, badly shaved Motley Crew of other entrants!
The ever steadfast and super fresh Jim Smith drew Ricks Golden Peg number 12 to an eruption of banter and mild expletives. It was hard to say what was more shiny; Jim's ecstatic expression or the Prestigious Cup itself. Such is the understandable desire to draw this very special peg!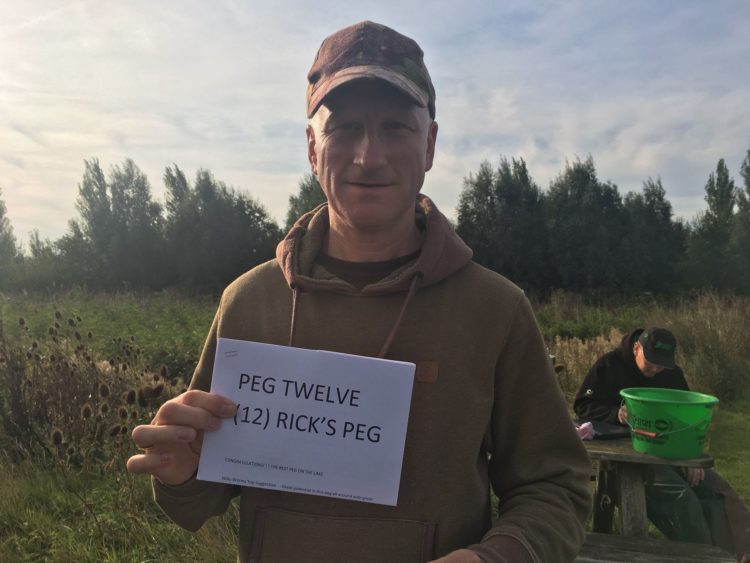 Everybody then quickly descended excitedly upon the Lake that was windswept with a brisk south westerly under bright skies.
The match started fairly slow with only the odd flash of silver fish being swung to hand here and there. Adi on Peg 4 was making good use of the right hand Reeds and Bulrush; skilfully presenting his pole rig with accuracy. Phil Middleton was well settled in to favoured Peg 3 and wouldn't have looked out of place on the front cover of Angling Times fishing against a beautiful back drop of lush green reeds, Iris Bulrush and newly planted White Lillies. The Lake looked stunning from all angles and continues to mature beautifully.
A nice place to just sit you could say, which was a good job as it appeared that all the fish were hiding. Alas, 11.30 am struck and Andy and son Harry Wrights margin pole could be heard creaking under huge load as Oscar the Giant Carp decided to make his annual reign of Terror on yet another pair of poor hapless souls. Troopy shouted did he need the Garage Engine winch, Gavin recommended chasing behind in the boat. Adi Potter shouted in panic "you're gunna need a bigger one!" Yet again Oscar escaped with a free meal, leaving the Wright Team exhausted and in mild shock. The true size of the scaly brute still remains unknown. Who knows how big and grumpy he will be next year!
Dave Wass was quietly chipping away in rock hard Peg 8 and was managing to keep a steady flurry of fish coming; mainly small fish but they all count! Gavin and George following suit enthusiastically and making a great start in what was their first fishing match.
Alesha and Simon (Blaydsey) worked as a tight team and were building a slow but sure rhythm of small fish on the long pole. Plenty of fish escaped, bounced and were juggled to accidental freedom to the sound of "Whoop's we've lost another Dad."
Between completing two crosswords and updating his LV Job Files, Gary managed to put together some nice Perch and also caught some of the newly stocked Mirror Carp which was great to see.
Dave Troop finally broke the silence and brought the match to a close just after 1.00pm.
It's fair to say the Lake fished hard with the fish seeming to completely disappear. Whilst it makes for a level playing field on Match Day. In reality the Lake has never fished so well with several record bags of fish caught over the recent summer period. Furthermore the Lake is literally teaming with this years offspring of all tiny fish species which is very promising.
By the weigh in,  the iced bottles of lager and Fanta were crispy cold and well received.
Dave Wass was King for the Day and won the match with 6lb 6oz. Although the catch included a small Carp, the rest of the bag was based upon a very respectable amount of small silver fish. Dave's tactical change mid match to fish close in for the small fish proved invaluable and a sensible reaction to the slow conditions.
The ever consistent Phil Middleton swooped in with second place , with another respectable bag of hard earnt small fish for 3lb and another placing for the History books.
Amidst all the Lego and Barbie Dolls ,Alesha and Simon had managed to catch something, mainly medium sized skimmer bream and a few Perch for a Third placing 1lb.10oz.
Match Winner veterans Dave Troop and Gary "Big Pimping Cox" shared fourth place.
Alesha Blaydes went on to win the Cake Raffle and was over the moon at the thought of three meals of Cake a day for the next week !
The Rick Paton memorial Match made in excess of £100.00p Charity Money (exact amount details to follow as we continue to receive kind donations)
Especial thanks to the Xeric Team for helping prepare the Grounds ready for Match Day, Jon and Louise Cook for providing Breakfast for everyone and more  –  each Sandwich complete with labelled inspirational words for the day ahead! Jane and John Blaydes for providing the Cake Raffle again. All the Gelder Staff and Jim Smith who helped clear reeds and weed, and the Gelder Staff who provided great support on the day. Without this support our annual Commemoration for Rick Paton would not have been possible.
We hope to see you all next year !