The Fourth Rick Paton Memorial Charity Match took place on 8th September 2019. It was a cool start to the Day with Gary Cox even having to scrape ice from the windscreen! Eight ''coiled springs'' were in high spirits full of banter as per usual! The draw was tense (LOL) with the low numbered pegs and Rick's peg being the hot favourites. The efforts the travelling Barbarian's made, battling fire,  ice and wind paid off with all three gents drawing very favourably and saw Big Alan sat comfortably in Rick's Peg.
Start time was called early, such was the excitement to get fishing with the War Cry coming from defending champion, Gary Cox.
Yet again the sky line looked like a scene from Braveheart with a torrent of feeders, leads, floats, bait and carbon fibre poles being unleashed. Dave Troop's feeder was so big , the splash resembled a Snap On Tool Cabinet going in. The suave as ever Jim Smith, clearly not being happy with how deep his swim was and was raising the bottom gradually throughout the match with Boilies, Tiger Nuts and Kilos of particles. Dave Wass was off to a good start with a flurry of small fish, at least securing some valuable weight early doors. The match continued at a steady pace with fish steadily coming throughout. The fish seeming to push out to the deeper water as the match went on. Ex Gelder employee – Andy Wright putting in another solid shift and produced a real gem of mirror carp, just showing the quality of fish we have in the Lake. A hairy battle with an unseen power house was a highlight, with Big Al having to use pure skill to free a large Carp from the weeds in the dying seconds of the 3.5 hour match!
Bright conditions made the fishing difficult but the weigh in saw plenty of fish of all sizes and colours returned safely.
The highly skilled Barbarians secured third and second place, Big Al taking third and winning biggest fish of the Match, Phil the power Middleton putting a quality bag of hard earned silvers and carp together with the consistency he is well renowned for. Bald Blaydes took first place with a mixed bag of Carp and Orfe caught from various other pegs around the Lake (LOL). Jane Blaydes made a Chocolate cake to mark the occasion that was won in the raffle by Top Rod – Jim Smith.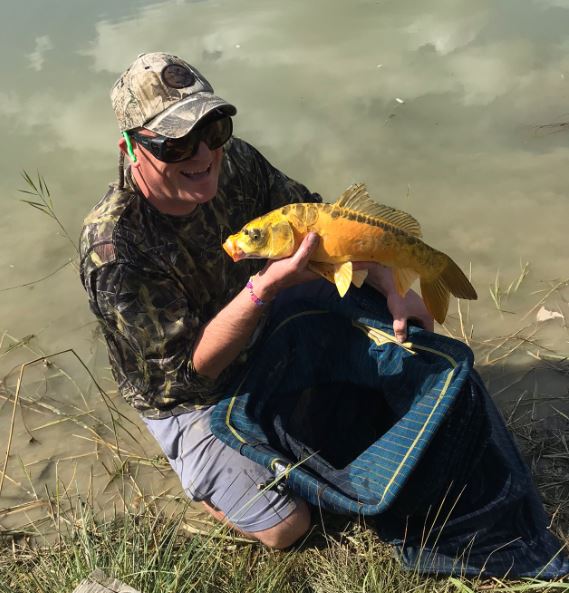 As always the real winner was the event itself with 65.00 pounds raised for the Brain Tumour Charity.
Thank you to all that attended the match, including the staff and visitors, in particular the Paton family who very kindly gifted a bottle of Champagne for the largest fish of the Day.